Roasted Pork Torta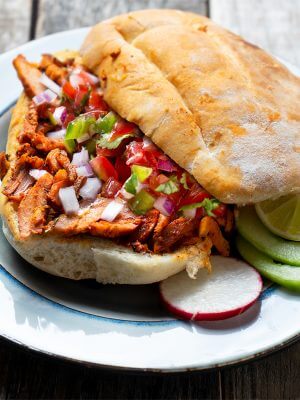 Featuring juicy roasted pork with creamy avocado and covered in ranch dressing, sweet chili sauce and topped with pico de gallo salsa, this mouthwatering Mexican-style sandwich will have customers coming back for more.
Ingredients:
Culinaire Ventura Foods Ranch Dressing - 2

oz.

Culinaire Ventura Foods Sweet Chili Sauce - 1

oz.

Cotija cheese, crumbles - .25

Cup

Crushed avocado - .5

Ea.

Talera roll - 1

each

Shaved pork, prepared - 5

oz.

Pico de Gallo salsa, prepared - 2.5

oz.

Lettuce, shredded - .5

Cup
Preparation:
Heat the pork on the flattop grill. Cut the soft Talera roll in half and spread the avocado on the heel of the roll, top with shredded lettuce and continue layering with the salsa.

Continue to layer the 5 oz. pork on top of the salsa, drizzle the ranch, sweet chili sauce and finish with the cheese and close with the top of the roll.

Cut the sandwich on a diagonal and place on the serving plate and place the appropriate side item.